I decided to make one more test dress, this one was based on a McCall's pattern (9126).
I made a muslin of the view shown in the top left. Here is a video of me in the dress.
I'm pretty happy with this dress. It fitted without any changes
to the pattern and I think I really like the back detail. It makes
the whole thing a little less conservative without being too immodest.
The only change I'm thinking about is to take the skirt in so that
it is less full and not wear a petticoat.
I have decided this will almost certainly be the dress I make for
Syracuse and I have the fabric picked and washed too!
Appropriately it is fabric I bought in Syracuse last December
from a wonderful little store downtown that had just opened.
Here is a photo of the fabric (right) and the lining (a super soft cotton)
drying across our entire living room.
And catching the light nicely :-)
I'm also toying with the idea of making the very same pattern for my Sydney
dress, just using different fabric and perhaps keeping the skirt full.
My only other news is that I finally decided not to make the bridesmaid
dresses, it's just one too many things for me to get done and was adding
to my stress levels. I was sad to admit defeat, but I'll come back to making
those dresses for Jane, Em and Rebecca after the wedding.
However, I do still plan to make a little dress for Madeline
(who will be 9 months by September!) to match the dress Jane is
wearing.
The pattern I am planning to use for Madeline's dress is Simplicity 2668.
I will make both the dress in the top left and the coat. Though I'm not
too sure about the bow.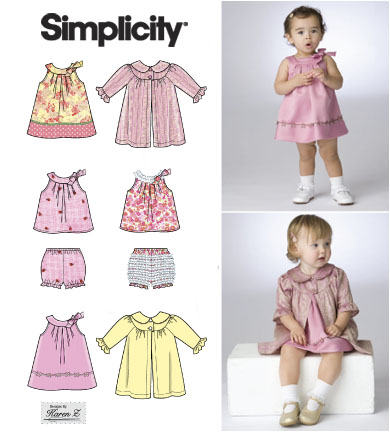 Comments welcome!